Live Game 20 Blog: Washington Wizards vs. New Jersey Nets
Updated: December 10, 2007
Phil Chenier and Steve Buckhantz on the 1 & 2 talking about the friendly upcoming schedule for the Wizards – 6 of 10 remaining December games are at home. Only one of those opponents is playing .500 ball right now, the Pacers at 10-10….although, the Hawks are 1 below .500 and the Wiz face the Heat twice and the Bulls once during this stretch. So, it's not as easy as they make it out to be…then again, It's Business Time.
Damn, it looks like the Pecan Sandies are going to win. Kids day at the Verizon Center. "Great."
Now let's start the show…
1st Quarter
11:40 – Sweet running hook to start by BTH – Brendan Todd Haywood…looking like a Sweaty Pat Ewing. Phil noticed that New Jers actually double teamed Brendan.
10:04 – Ball worked around well as AD – Antonio Daniels plays the baseline to Caron Butler who swings to DeShawn Stevenson for the made J.
8:28 – R Jeff – Richard Jefferson dunk…regardless of the Wizards intent to get back on D in transition. I can't believe Jefferson is 3rd in the league in points, he's been J-Kidded.
7:33 – BTH baseline layin after a drive by Butler. Where on earth did this dude get all this agility?
7:01 – AJ long deuce puts the Wiz up 12-9.
6:30 – Great float pass from AD to a cutting AJ for the floater. Yup, float for the floater..sounds like toilet humor. Timeout Nets. The Wizards are really moving the ball well on offense, hustling back on D when the Nets try to run, and they're being active on defense. Up 14-9…they've let the Nets get a couple sneaky quick shots, but I like what I see.
5:52 – Wow…an aggressive move to the rack by DeeShawn, And1. He had the baseline open, I like to see him pick his spots. 9-0 run by the Wiz.
4:59 – Jason Kidd deuce…he's got 6, 2-3 from the field, but both of his made Js would make the casual fan think he's a shooter.
3:32 – AJ gets his own offensive bound and quickly flips it in, 21-13 Wiz. I think Jamison invented Hustle Swag.
0:00 – Game goes back and forth as Butler misses a 3 at the 1st qtr. buzzer, the Wizards are up 27-23. They let the Nets hit 3 trey balls that quarter, Boci Nachbar has 2 of them….not good.
2nd Quarter
Dominic McGuire gets the early call from Eddie Jordan…..he misses the first shot of the period, not bad look though.
3 pointer by R. Mason…..kid comes in just ready to ball. I'm tellin' you Son!
Move by Kidd, no one picks up a cutting R Jeff, he gets an open dunk. Eddie Jordan tries to squash it with a timeout. 30-27 Wizards.
9:40 – Dammit…Old-Ass Darrell Armstrong sets up Vince Carter for a 3. [mug shot from crime.about.com — this arrest of D.A. does not seem very justified — Darrell Armstrong will always be one of my favorite non-Wizards NBA players]
And the Wizards have subsequently stopped moving the ball on offense. Caron Butler and Nick Young to the scorers table. 8:32
The ball starts to move again…steal, Young penetration, pass to Butler, swing to D-Mac, but he gets stripped going for a layup. Rookie stuff….gotta hold on to the ball.
The Nets have gotten a couple easy buckets and are now up 34-30. The 3 turnovers in 1.5 minutes (thanks Steve Buck) by the Wizards contribute to the New Jers cause.
7:08 – A bad Nick Young miss doesn't end a 12-0 Nets run. C'mon kid, you gotta knock 'em down when trying to fight back.
6:37 – AD finally checks back in to lend some stability. Armstrong gets a floater, shots are falling for New Jerse now. They're up 41-32.
5:08 – Butler miss, DC can't get anything going on offense. They just aren't moving the rock as well now. 11-30 from the field.
4:30 – Nice!…Antawn And1 3-pointer, with the foul on his North Cacalaca boy, Viggity Carter. 4 point play.
2:33 – Okay, Nick Young gets on the board with a deuce. 43-40 Nets.
0:46 – Butler sloppy turnover leads to Nets fastbreak points. The lead is pushed back to 7. Butler has not been on his game so far. Mountain Dew anyone?
Bad offense and a Jamison miss to end the half. The New Jersey Nets are up 48-42 over the Wizards.
Half A Stat
Wow, how are the Wiz only down 6? The Nets are shooting 20+% points more than the Wiz, 54.3 to 33.3.
But the Nets have committed 3 more turnovers and 4 more fouls.
Leading to…the Wizards hitting 14 of 14 FTs while the Nets are only 6-9.
Kidd: 8 points, 5 assists, 7 rebounds
3rd Quarter
10:35 – Stevenson misses a wide open 3 that he would have made last year
. DeShawn, I'm talking to you. What is it going to take to re-establish any sense of reliability, dependability on you?
9:08 – Vince Carter Ridiculous Rainbow Three, a VCRRT… as the shot clock was running down.
8:52 – Wow…Ken Griffey, Jr. is at the game, hanging out with Ryan Zimmerman of the Washington Nationals. If the Nationals were an American League team, I'd start to speculate. But since they have no DH…oh well.
8:08 – Carter shot….followed by a Wiz t.o. – Nets up by 9, Carter has 9… in the quarter.
7:24 – Money with change on top....Butler hits a baseline fadeway deuce at the shot clock buzzer. Start something good, team.
6:35 – Jamison gets Malik Allen back for hitting those shots, spin baseline jump hook dead on his grill. And 1 Sucka.
6:05 – The lady ref calls a foul on Nachbar who is trying to guard Stevenson, ol' Boci was right near the mic, and you could hear him…"He's holding meeeeee….he's holding meeeeee" in a straight Ball In Europe accent. Welcome to America son. Can I get you a part-time job mopping floors at McDowell's?
5:19 – Needed it! Running J off the glass for AD with the S-Clock running down after a Butler save.
4:51 – Stevenson is ruining my night. Make that two missed shots after a Wizards offensive rebound on the possession…luckily, a New Jers foul on the 2nd off. rebound, Caron with two FTs. Wiz down 3 now.
3:58 – Oh. My. Dear. Lord. I "kinda" take back everything I've just said about you DeeShawn Stevenson. You just threw it down hard as sh*t on Richard Jefferson. You did a little can't feel me face, not like you've quit it or anything, and they called you for a tech.
3:16 – Here he go, here he go…. trey ball by DeeShawn, Wiz take the 67-66 lead. I can hear Tina Turner in the background. (seriously, check out this youtube video, 100% valid awesome)
1:34 – AD does another good job of getting to the line. Nice ball movement by the Wiz. Two FTs made.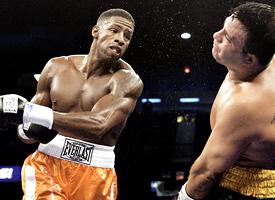 Steve Buck just made me do a major double take…when Eddie Gill was checking in, Steve B accidentally said that Kendall Gill was checking in. I was like whoa, whoa, whoa…Kendall Gill, the boxer?
0:22 – Shot clock violation by the Nets. Phil C. recognizes the great D by Rog. Mase. Jr….the campaign for the kid is building.
0:02 – D-Song with a clutch bucket….Great 4th quarter run by the Wizards. They outscore New Jersey 36-24 in the quarter to take the 78-72 lead.
According the ESPN, the Nets are still shooting 53.8% and the Wiz 37.9%, but the Wizards have made 31-32 shots from the FT line. Amazing. Rebounds are tied @ 28, but the Nets have 13 turnovers to the Wiz 8. This 4th quarter will be HUGE!
4th Quarter
Damn, just looked up at TV feed #2, the Colts are already up 14-0 on B-More…we all saw this happening. Classic, "I need to beat that ass" game on Indy's part, classic Let Down game on B-More's part. Indy was still getting 9.5 points though. Tough bet, but I would've taken it.
More and more, Roger Mason is making smart decisions with the ball. His steal leads to a fast break…next play, his advancing the ball leads to a quick offensive setup and bucket by the Wizards. Timeout Nets, Wiz up 84-76.
Check that, 21-0 Colts.
Nachbar O-bound caused by Nick Young negligence. C'mon Rook…can't have any game slippage.
When it literally rains in Baltimore….the Colts get a safety on the Ravens, Indy up 23-0.
7:16 – Quite the monster rebound by Caron Butler over Jefferson, Kidd and Collins….I believe the word would be..SNATCHED! Caron gets fouled, knocks FTs, Wiz up 90-77.
6:43 – 'Nother O Board by Tuff Juice. Put that back! Wiz up 15.
5:40 – What hustle by Caron Butler….loose ball heading towards the back court, on the Nets possession, Nachbar saves it, but Butler is there to poke it away from Kidd, Wiz possession.
Songaila been comin' through big time by the way. 8 points, 5 rebounds, 12 minutes.
3:43 – Butler strong drive with feed from D-Song, Wiz up 98-84.
I'm smellin' it….the win.
2:38 – Yessur, yessur……Nets pressure, AJ gets the ball short of half court, drives for the 2 on 1 break with Songaila, pass of great timing…bucket and the foul for D-Song. Wiz up 101-86.
2:05 – R Mase Baby! Trey ball, net.
Crap. D-Song sprains his ankle. H
e's able to walk off the court, but straight to the locker room. The last thing the Wizards need.
Wow. Abe and Irene Pollin are really stepping up. I have to give them all the credit in the world. They are giving $100 per point for every point that the top two Wizards score for home games, and I believe that's in addition to what Gilbert gives. They have really stepped up for the schools.
0:45 – The Wizards are going to pull this one out. Put it in the books after a New Jers airball.
Hey, lookie there, Bal-more is finally on the board, they're down 30-7.
Trip-Dub by J-Kidd too….good for him.
Very nice win by the Wizards. It was such a team effort as they had 6 in double figure scoring and Rog. Mason on the cusp with 9.
Stat Style – Caron said DeShawn dunked like that cause it was kid's night….
Nets 53.8 FG%, Wiz 37.9% – What makes up for that? Making 17 more FTs than your opponent shot.

Jason Kidd

had a triple double…J-Kidd also had 4 of his team's 14 turnovers compared to the Wiz 8.

Andray Blatche

only had 8 minutes. And this is ok, of course, with everyone since the Wizards won. It just proves that Eddie can go with whomever is hot for the game. Roger Mason and Darius Songaila proved to be the ballers for this game, so they got the run.

DeeeShawn

had 12 points, albeit on 5-11 shooting, so he can't feel

Mr. Fifty

's face. But if he can contribute and the team can keep playing well together as they did tonight….watch out.