Live Game 23 Blog: Washington Wizards vs. Sacramento Kings
Updated: December 15, 2007
By now, everyone knows that Antonio Daniels will be out with a sprained knee for 2-4 weeks. Initially, I figured that Roger Mason would start. Wizards Insider has just reported that Nick Young will get the nod.
"…but I'm hearing that Nick Young will start along with DeShawn Stevenson tonight against Sacramento. Not Mason. The reason, according to the person I spoke with, is that Eddie doesn't want to put Nick Young, Dominic McGuire and Andray Blatche on the court at the same time. He'd rather have a vet like Mason out there with the young guys."
Reconsidered, I think this is a great move by Eddie Jordan. Not only is it good to balance out an inexperienced rotation, but I also like how he is putting Bean Burrito aka Nick Young on the spot to perform.
Eddie Jordan: "It could change, game by game."
Hey, you gotta remain flexible. Now let's start the show…
1st Quarter
Absolutely frustrating start to the game…Possessions: Wiz lose it out of bounds to Kings, foul on DeShawn, foul on Nick Young, traveling on the Kings. Wiz Ball.
11:15 – Nick nails a 3…..but he picks up his 2nd foul on the other end….barely a minute into the game. Bean is having trouble checking Beno Udrih.
10:32 – Nice take by Burrito…he really used his stride on a long-driving layup. He's been active one way or the other. 7-2 Wiz.
9:33 – Caron Butler wakes up from 3…..along with Ronnie Artest at the other end.
8:07 – Damn…back to back jumpers by the Kings big men, Mikki More and Brad Miller – 7-0 run by them, 10-9 Wizards. Timeout DC.
The Wizards are having matchup trouble in 3 ways: Miller is bringing Haywood away from the basket, I'm not sure if AJ knows how to handle Mikki Moore, and as tuff as Tuff Juice is, Ron Artest is a tank.
7:20 – O-bound and basket by Butler, around 3 Kings with their feet stuck in quicksand. 12-9 Wiz.
Haywood is matching up with Moore and AJ with Miller now…..then again, it was back to vice versa the next time down the court.
6:02 – Roger Mason is back in the game for Nick Young….and he came in ready by hitting a deuce.
5:21 – Mason just had two nice drives to get into the paint and dish the ball to BTH – The 1st time resulted in a deflection out of bounds by the Kings; the 2nd, two made FTs by BTH – 21-13 Wizards.
4:20 – Boy, the Wizards are really active on the offensive boards, and in trying to get the ball into the lane. If Gilbert had to have a sub for him in the Big 3, who would it be? I might have to nominate Brendan Todd Haywood.
3:17 – Brad Miller lob to Ron Artest for a 2…Caron made the mistake of letting Artest get behind him. Ronnie got free with a slight, but not worth a call, shove in Butler's back.
2:53 – Another bucket by Mason – Wiz 25-17. That's 6 for him, all shots made.
2:39 – Haywood block, push it up the court, Butler with the ball on the left wing, jumps into his shot….nope, he zip pass in the lane to a cutting BTH. Basket, And1, 11 point lead for the Wizards. Wait, was that Brendan Haywood who got the block at one end and the hustle basket at the other end? 27-17 DC.
The Washington Wizards are really playing well now. Believe it or not, zero turnovers and 4 assists for the Wizards. Who has 3 of those assists? Caron Butler.
Gotta love another move by Eddie Jordan, he's putting a backcourt little pressure on the Kings – get them on their heels.
2:00 – Amazing pass by Caron to Roger Mason cutting for a layup. Caron is playing like a young Grant Hill with the ball distribution tonight. The Princeton Offense is a well oiled machine.
1:00 – DeShawn 3 – I think I'm glad that I picked him up in a fantasy league last night….before I even heard AD was going to be out. 33-22 Wizards.
0:33.5 – Unbelievable! A Brad Miller pump fake at the 3 point line (I saw him pulling the okie doke on Andray Blatche from a mile away)….Miller then took 2 dribbles right down the middle for a dunk.
A couple missed opportunities for the Wiz at the end. The 1st quarter ends with the Wizards up 33-24 on the Kings.
Both teams are shooting over 50%, still 0 turnovers for the Wizards, Sac Town with 4. 11-8 rebounds in favor of DC.
2nd Quarter
Spencer Hawes in the game for Sacramento. I've read somewhere that this guy is a stiff. Then again, his name is " Spencer" — might as well be "Lance" or "Carlton"
Caron doing the damn thang from all aspects, knocking down more jumpers, getting steals….in addition to his 4 assists of course.
11:00 – Nick Young is not around long as he picks up his 3rd foul. Burritos….they'll get'cha – they make it a little hard to move quickly on D, know what I mean?
Wow, Sacramento has many more problems than the Wizards do…Mike Bibby's out, Kevin Martin's out, Abdur-Rahim's career is done, they can't take care of the ball, they can't block out on D
9:25 – Vicious dunk by Dahntay Jones. Well Andray, might as well get used to that, it's going to happen from time to time if you want to be a shot blocker – just ask Zo Mourning and Deke Mutombo. 37-29 Wizards.
8:13 – Beno 3 – as soon as I start trashing the kings, they cut the lead to 4. 39-35 Wizards.
Eddie Jordan gets frustrated with the offense on the other end, you can hear him yell on TV, "Cut Hard!" – Roger Mason subsequently cuts for a bucket.
BTW – How did Brad Miller go from cornrows to middle-part 80s dork hair-doo?


6:30 – Beno Udrih looks like a skinny Euro-style Mark (or Brent) Price.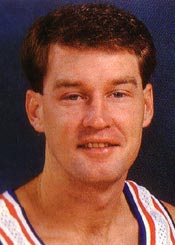 5:56 – AJ 3, bout time he got going….8 points for him. 46-39 'Zards.
5:12 – Man, a straight smack down from BTH delivered upon Mikki Moore while going for a bucket inside the paint, they haven't showed the replay, but I'm not so sure that Haywood was going for the ball. 1 made FT – 46-42 Wizards.
3:56 – The Wizards have a couple cold possessions, then dime dropper Butler whips it to a cutting AJ for a dunk. 48-44 Wiz.
Caron Butler is really trying to institute ball movement, 6 assists for him so far, but the Wizards have gotten a little sloppy — Now, they are only up 1, 48-47, shooting below 45% (while the Kings are just under 55%), and have 3 turnovers.
Steve Buckhantz saying that Ernie Grunfeld seems pretty confident that the Wizards will sign someone. Eddie Gill…Mike Wilks….
Also reported on Wizards Insider after the game….I remember liking Brian Chase from the summer league a lot.
1:50 – Miller J from the top of the key. I'm not sure how the Wizards keep losing track of him. 12 points for white cornrows.
The half ends with the Wizards up 52-51. Well…they have held together nicely, but the defense has been horrendus. They are allowing the Kings to get too many open shots, especially in transition which led to the Wiz squandering an 11 point lead and allowed Sacramento to shoot 52.5% from the field.
Why the Wiz are up 1 in spite of poor Defense:
9 turnovers from the Kings
8-8 on FTs, Haywood is 5-5
Balanced Scoring: 8 the 9 players available are in the books (all have played, just Songaila has yet to score), 6 of those with 5 or more points
3rd Quarter
Haywood on Moore now. BTH just got his 10th rebound, got his double-double early in the 3rd.
10:25 – AJ 3 miss, but it wasn't a bad shot, they worked the ball around the horn well.
9:51 – Back to more of what the Wiz need – a BTH inside bucket, 13 points.
9:08 – Offensive foul on Ron Artest, really smart move by Butler, he was leanin on Ron pretty hard and basically goaded him into pushing Caron off.
I didn't know that Rod Strickland was the Director of Student Athlete Development at the University of Memphis. Sicknin', wondering what he's teaching those kids.
7:10 – So Butler is not infallible, he blows a 2 on 1 fast break with Nick Young. Wiz still holdng at 62-56.
6:30 – Stevenson 3, hasn't done much so far tonight, that's his 8th point, but it's good to know he's there.
5:52 – Butler J on 'Test puts the lead to 67-58 Wiz – A hard fought 11 points for Caron.
5:20 – DeeeShawn 3 – Momma, that can't feel my face man is back.
4:43 – Nick picks up his 4 personal – he's just not strong enough yet to be able to avoid fouls.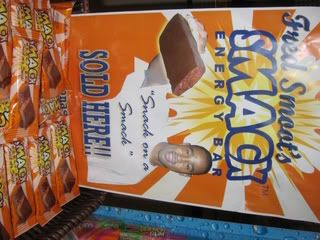 4:08 – Man, are you kidding me? 3 by DeShawn – 74-63 Wizards. That guy must be eating Smoot Bars. – snackonasmack.com
3:17 – Butler to Jamison, 8 assists. The lead has been pushed back to 14. They've done two things on this run: move the ball efficiently on offense, and the Wiz have stopped allowing the Kings wide open looks.
2:25 – Dahntay Jones with another Debo move down the lane for a layup — he did not do any push-ups on the court after the shot.
1:39 – Tech on Brad Miller – he got frustrated by the collapsing Wiz D and gave AB a lil' shove going back down the court.
Great 3rd quarter, the Wiz outscored Sacramento 28-16. From years of reading about the NBA, I know that teams see the 3rd quarter as being perhaps the most crucial. Seems like Wizards teams of the past have come out of the locker room after intermission lacking energy, desire…at times. This year, things have been different. I need
to find out 3rd quarter stats vs. the opponent for the season.
4th Quarter
Steve Buck just told us that the Wiz are 7-1 at home when leading after 3.
D-Mac, Mason, Stevenson, Songaila, and Blatche to start…interesting lineup.
10:25 – 5 threes, count 'em, for DeShawn Stevenson.
8:44 – 3 by Roger Mason…great decision by Stevenson, he got free on the left wing, had a small amount of room to pull up, considering how hot he's been…but it still would've been a tough shot. No, DS swinged the ball right to the left corner to Mason. Stevenson has 19 points, 5 assists, and 3 rebounds.
Timeout – Wizards up 20, 88-68. Defense is much better this half. Miller is not getting what he got in the 1st.
7:68 – Blatche draws a charge, nice work buddy.
I think I know who DeeShawn is — he's Samson, not the one from Half Baked, but the one from the Bible. As his hair (beard) gets longer, he gets better….
6:21 – Sac Town is 0-8 on FGs in the 4th.
3:06 – The game continues to go back and forth. The Kings don't have enough energy to get back into the game…and the Wiz have just enough energy to keep them at bay. Wizards are up 92-77.
1:04 – Great D by Dominic McGuire — Spencer Hawes was trying to back him down…got to the rim, but D-Mac blocked his shot when he tired to shoot it from the level of his face. The ball ended up going out of bounds off Hawes.
Game. Over. The Wizards win 92-79. Gotta be proud of this win:
The Wiz led the Kings the whole game
The played much better D in the 2nd half – The Kings shot 52.% at the end of the first half, ended up 43.4% for the game.
The big difference, 7 steals for the Wiz, 18 turnovers for the Kings.
Enjoy the 3 days off Wizards – See you next Wednesday against the Bulls.
Photo Credits:
The Washington Post DC Sports Bog
Basket-Stats.info
CavsHistory.com
ESPN.com