Live Game 26 Blog: Washington Wizards @ Indiana Pacers
Updated: December 23, 2007
Well, Caron Butler is out with an ankle tonight. Darius Songaila will start in his place, along with Haywood, Jamison, Mason Jr. and Stevenson. A little bit bigger lineup, not a bad idea since Mike Dunleavy at the 2 and Danny Granger at the 3, both 6'9″, present a tall challenge. But the Wiz should still be able to get up and down the court at a decent pace with AJ at the 3. I just hope he can keep up with Granger trolling around the 3 point line. Gonna be tough, but let's think that avoiding three losses in a row will provide some extra kick for this team.
For the record:
Season Opener Live Blog @ Indy [a 119-100 Wizards loss in OT]
Game 7 Live Blog – Indy in DC [a 103-90 Wizards win]
Start the show….
1st Quarter
Honestly, I'd be a complete defeatist about our chances if J.O. was playing like the Real J.O.
9:48 – 5-2 early lead for the Wiz, Jermaine O'Neal goes to the rack, but is bothered by a long, and somewhat agile BTH.
9:09 – A Troy Murphy transition dunk gets the Pacers to 5-4. Not sure if two white boy breakaway dunks to start the game are exactly good for the Wizards. Dunleavy has the first.
Got some company for the game – my boy Chris says, "Jamison's shot seems to be coming up short tonight…is that a good comment to put?" I don't know Chris, we'll just have to see.
6:06 – Roger Mason air ball – which prompts my boy AJ to say, "Man, Washington sports is really facing a lot of adversity these days." To that, I say, "Hey, we could be living in Miami, then again, we'd be living in Miami."
Really Comcast? Going to a commercial mid-game. Classy.
Broadcast finally comes back to Eddie Jordan talking about his 2 hour random Christmas shopping spree. Great. 5:24 left, the Wizards are up 12-11. I guess a timeout was anticipated by the TV crew.
You know, I don't exactly mind the shots that Darius Songaila takes, I just don't exactly like having to go to him for shots. The Wizard are trying to go post, but that results in D-Song and Brendan Haywood misses.
3:31 – Nick Young and Andray Blatche check in….we will really need some energy from these guys.
1:30 – Very lackluster 1st quarter so far, Pacers are up 16-13, now 19 after a Granger 3.
1:20 – D-Song and D-Mac get in for Haywood and Jamison.
0:15 – Dunleavy 3, Indy up 22-16 — boy that thinning dome hair is really showing on him. The quarter ends and the Wizards seem to be lacking energy as they did last night against the Hawks. Down 4, 18-22.
2nd Quarter
You can see the effort of the Wiz trying move the ball, but the flow is just not there.
A J.O. dunk puts the Pacers up 29-20. At this point, the Wiz no longer look like a decent team that is really trying hard, rather, a mediocre team that is struggling to stay afloat.
7:35 – We really need BTH to step up. He just got traveling called on him, guess he got a little too excited when he saw skinny Dunleavy guarding him. J.O. hits on the other end to put the Pacers up 10, 31-21.

Phil Chenier keeps mentioning that the Wiz are playing decent half-court D, but I'm seeing them easily lose important Pacer shooters in transition.


5:05 – Roger Mason with his second deuce in a row, cuts the once 11 point Pacer lead to 6. Even after Mason Jr. misses…in which I'm always a little more disappointed than with any other Wizard misses, not sure why…cause I really like the kid (maybe it's because I don't want his misses to rally the campaign of those against him)…but back to the point, he always seems to come back with the same display of confidence. I really like the consistency he is able to provide.
4:30 – Another 2 by Roger, almost a 3. The fact that EJ is calling his number via run plays shows the confidence the coaches have in him too.
The Wiz have 7 turnovers so far…that seems a little high to me.
2:50 – A Stevenson bad turnover on a careless drive….and then he very casually gets back, barely getting across half court as the Pacers hit a transition 3.
Mason has been poppin', but the Wizards are looking to get him the ball like he's the one and only scorer. The Pacers are starting to pick up on this fact.
1:25 – Timeout, Pacers up 9, 41-32. Neither team is shooting above 40%, but the Pacers are 5-14 on 3s, while Washington is 1-8.
1:10 – 9th turnover for the Wiz leads to another Indiana bucket.
0:50 – 9th point for Roger Mason Jr., J off the glass.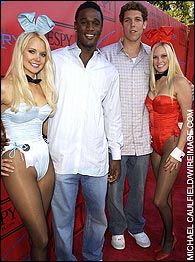 0:37 – But the Wizards can't stop Kareem Rush who, as Steve Buck tell us, has the last TWELVE points for the Pacers? What? How do the Wiz let a guy coming off the bench do that? 45-34 Indy at intermission.
Half Stat Rap
8 turnovers for the Wizards in the 2nd quarter, leading to 14 Pacer points. [9 turnovers total]
Only 7 assists for the Wizards, 15 for the Pacers — not surprising since assists come easily with all those transition buckets.
35% shooting for Washington, 11 points for Jamison, 9 for Roger Mason — that's just not going to get a mark in the W column.
I'm sure with all the injuries, it can be hard to "get up" for games and get past any demoralizing feelings. But these other guys, the ones who are given a chance to get their game on with the big dogs out, they should be contributing the "I'm gonna make a name for myself to get some straight cash homey down the line" effort and energy to the team cause. I really don'
t mind poor shooting nights, those will happen. I'm even willing to concede the fact that turnovers will be inevitable, especially without Antonio Daniels. But to be getting beat by Indiana in transition like this? Unacceptable. Resolving the issue will require the type of hustle, hustle-swag if you will, which will hopefully snowball into better performance in all aspects of the game.
3rd Quarter
Haywood's offensive repertoire has dissolved into lazy moves these past two games. We know you have it in you BTH…just be patient and make solid attempts which may at least get you a trip to the line.
Just under 10, the Pacers effortlessly push their lead to 13, and they have the ball after a questionable charge call on Stevenson.
Steve Buck just pointed out that referee Mark Wunderlich has been frustrated with the constant complaining for the Wizards bench — an indication of a possible tech down the road. We sure could use that energy spent complaining on the court.
Haywood's defensive effort is still, however, present. A rebound and block contribution eventually helps the Wizards cut it to 8, down 49-41.
7:27 – A 3 pointer by DeShawn pushes the Wizards run to 10. A Granger 2 on the other end…..but Haywood is showing signs of life back down the court with an offensive rebound and put-back. Wiz down 51-48.
BTH does have 12 rebounds, 5 offensive, and 3 blocks — so maybe I was a little hard on him earlier — those non-scoring numbers go a very long way in making up for any offensive deficiencies.
Minor game delay, a fan just ran out on the court. He didn't go after any players, Steve and Phil said that he just wanted to touch the net. Ummm okay? Security finally was able to scramble and tackle the guy. I agree with Phil C, I don't think I ever remember seeing a fan on the field of play during a basketball game…football and baseball, yes. But basketball? You gotta be pretty into some booze or paraphernalia to get trashed enough to storm the court at a random December Pacers-Wizards NBA game. In this case, at least Comcast was able to cut to the sky cam feed to show the fan running around. Not as good as a close up, but still…better than ignoring the damn thing like they do for NFL broadcasts. I'm always completely disappointed when they don't show fan-field action. I quasi understand their reason: they want to prevent idiots from doing it just to get on TV — but then why does it still happen? I really think some of these cats get so drunk, that it doesn't matter if they're on TV or not. The lesson learned, and the great preventer should be a tackle by an NFL player, a beating by security in the stadium jail, and strict prosecution. But please, show these damn clowns, it's absolutely hilarious.
Oh, BTW….here is the video that damn clown on the court. Not sure what to make of Jeff Foster tripping him. Also, Jermaine O'Neal didn't want to have to cold-cock another S.O.B.
4:23 – After the timeout, the Pacers easily push their lead from 4 to 8 in less than a minute.
Nick Young and Blatche in for Haywood and Deee Shawn – They join Mason, AJ and D-Mac.
My fingers are once again crossed for these guys. Andray has lost his headband. What does that mean? He immediately picks up his second foul and the turns the ball over.
Steve Buck keeps pointing this out: 18 points off 12 DC turnovers for Pacers. Zero points off 5 Indy turnovers for the Wizards. Not a sign of a team that's playing together.


On another note – Jeff Foster is hitting open jumpers – he reminds me of somebody….some jerk. Just look at this guy, he looks like he's raping a 15 year-old with his eyes. BTW, nice make-up job on the forehead zit, d-bag.
2:37 – Coming out the timeout, AJ makes 2 FTs, Wiz down 59-56.
Two fouls in a row, 1st AB, then D-Mac – damn, Washington can't get past these touch fouls.
Danny Granger is a Wizards killer, he's leading the Pacers with 16 points.
There's the old Jermaine O'Neal. Jamison allows him to get deep, under the basket position, for the bucket and foul.
The Wizards can't build on anything good. Got it within 1, but then hurt themselves with Jeff Foster dunks, turnovers, and JO on AB abuse in the lane. Down 8 again, quickly. End of the 3rd.
4th Quarter
11:32 – How in the hell does that happen? The Pacers win a jump ball, between Andray Blatche and Jeff Foster, on their end; it is tipped right to Troy Murphy who scores on Songaila. I ask again, how in the hell does that happen?
Songaila does make up for that gaffe by getting a bucket on the other end, then drawing a charge back down the court. 9 healthy bodies, down 5, with the ball, just over 10 minutes left in the game, Ready to Rule.
10:01 – A Nick Young miss makes him 1-7 on the night. Guess it doesn't matter if he starts or sits, he's still a streaky rookie who cannot move his feet on defense. Exactly who we thought he was.
9:32 – Great play out of the timeout. Princeton Perfection — D-Song dibbles toward DeShawn on the left wing, Stevenson make the back cut and receives the perfect pass from Darius for the dunk. Gotcha Marquis Daniels.
Big Shot DeShawn – ties the game on his low shot-clock trey, 8:00 left.
7:56 – Unfortunately, Darius Songaila lets Troy Murphy cut RIGHT in front of him for a hoop on the other end. D-Song can be such a back and forth contributor….but he's always scrappy.
Wiz can't get over the hump as Indiana pushes their lead back to 4, at 74-70, in less than 30 seconds. Check that, Danny Granger 3 puts it at 7. Frustrating beyond typing.
5:35 – Back within 3 as D-Song hits 2 FTs, he's
24-24 for the season says Steve Buck.
You always hear about players with high basketball IQ. I'm not going to question what this means, but if you use it to specifically refer to team defense, I would say that the Wizards have a low team defense IQ — They can hustle and they can try, but losing a man on D is about 11 pars out of 18 on the course. Curious,….you'd think that in an offense based on passing and cutting, thus "losing your man", that the Wizards would be extra aware of not going MIA.
5:28 – Case in point, Danny Granger beats Brendan Smokin' Haywood on a jump ball. Jamaal Tinsley gets it, swings the rock to JO who hits a cutting Jeff Foster for a bucket. Too easy.
4:26 – Tech on JO, too much complaining about nuthin. Roger Mase FT and AJ bucket cuts the Pacers lead to 5 at 84-79. Can they make a push? I'm not so sure. 4 minutes left
3:42 – It's an easy damn game. Penetration by Dunleavy, pass to Tinsley on the wing, and swing to Danny Granger for a wide open 3 at the very top of the arc.
I can sense this loss as JO hits a J to put the Pacers up 10 with 3 left. Well, I know that Eddie Jordan didn't shoot 40% from the field and 70% from the FT line. The humps of Gilbert and Caron being out are enough to overcome, can't afford to bring bad shooting into the equation.
The Wizards offensive attempts at the end of this game are a comedy of errors. Steve and Phil say that the real pivotal play of the game was the jump ball at the beginning of the quarter. That set the tone for the 4th and reflected the type of game that Andray Blatche displayed, yet again — 14 minutes, 2 points, 4 rebounds, 3 turnovers, 4 fouls, 1 steal, 1 block.
Steve Smith just scored a TD for the Panthers – hey buddy, welcome to the season in Week 16 – almost time to cut the Wiz off and go root against the Cowboys. Don't want any playoff home field advantages for those jerks.
Uh oh….and TO is heading to the locker room with 4:30 left in the1st half. Christmas coming early you say? They film all the way to the x-ray room until the Grown Baby orders the door closed.
Meanwhile, back to the Wiz game, X-mas isn't coming at all here. They lose for the 3rd straight game, 93-85.
What's going on with those stats?
For the most part, the shooting percentages were a wash. The Wiz lost by 8 and the Pacers ended up hitting three more 3s.
Roger Mason had a career high 20,

and

only 1 turnover. AJ came strong with 29 and 12.
Hell, the only other stat I want to point to is that the Pacers had 20 more assists than they had turnovers. The Wizards had two

less

assists than turnovers.
Enough said.
…oh yea, Wizard Killer's 25 points.
BTW, I forgot that Granger was from Metairie, LA, thanks to the New Mexico Lobos website — represent the dirty. [other pic from SI Kids]

Bullets Forever with the open game thread – Prada wasn't far off with that 'Pacers holding the Wiz to under 80' prediction.