How Much Did Jason Campbell Grow On Sunday?
Updated: September 15, 2008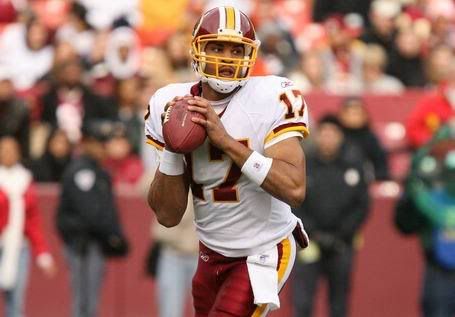 My initial thought was that Jason Campbell drastically matured in Sunday's win against the New Orleans Saints…..not from just a couple big plays, but factoring in his entire body of work on the day. But then I said, 'wait, this is his fourth season, isn't it about time?' However, I realized that it's the growing up he did in Jim Zorn's offense which counts the most, not the chances he had during game experience in the past.
The stereotype about Redskins fans goes that even after the most minuscule of battle victories (such as a media-hyped free agent signing or a preseason win), they assume that the war's end result will ultimately culminate with a February victory cigar. I actually take this typecast purposely overboard to annoy my local Cowboys, Giants, or Eagles fan.
But let's be honest, despite a great day across the board (my sarcastic in-game pessimism before Campbell led the team to a triumphant comeback didn't sit too well with my friends), this team still has a long way to go before they are able to comfortably weather the unpredictable NFL storm.
The win versus the Saints does provide reasonable hope for increased Monday morning cheer among the Skins faithful in the future. How much Jason Campbell grew up on Sunday doesn't really matter, rather it's about how much he is able to build upon this accomplishment in the coming weeks.
Best of the Web: