Thoughts on Second Chance Season, the Nick Young Documentary
Updated: September 29, 2008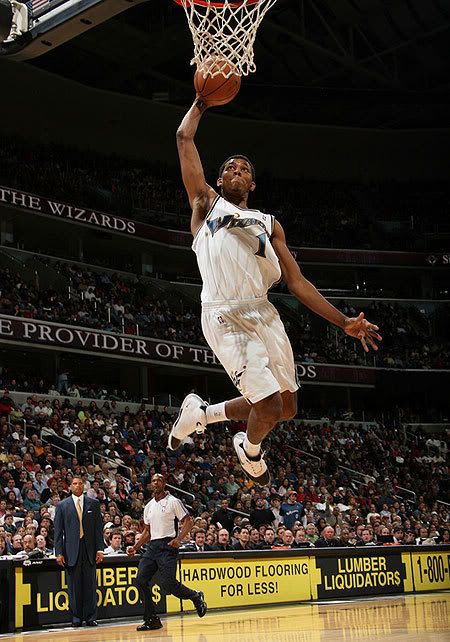 Last Wednesday, I caught ESPN2's airing of Second Chance Season, the documentary about Nick Young. I won't go so far as to say the film was absolutely captivating, but certainly well worth watching. The best part was the access and candidness allowed by the Young family. Director and co-producer, Daniel H. Forer, did a great job in bringing everything together, as no stone about the saga was left unturned.
Here are some observations:
I liked Young's dad, Charles, a lot….from his understanding of a world in which no one can ever really escape violence, to his quote to Young's mother, Mae, "You looking at the NBA, I'm looking at a B.A.."
I was struck curious when Nick's high school coach at Cleveland, Andre Chevalier (at least I recall it being him), expressed that the University of Southern Cal had "excuses" citing low grades, and the fact that Nick had yet to take the SAT. Uhh coach? I think you are using the wrong terminology….perhaps you are confusing "excuses" with "requirements."
Nick Young vs. Jordan Farmar: To me, it was telling how in the highlight clips of made baskets by each player, Young make his way back down the court not paying attention and pounding his chest, while Farmar calmly went about his business after scoring. Not to say I've got a big problem with on-court celebration, but there is a line to draw. I'd rather have the guy acting a bit more professional on my team…..like when Farmar got fouled with less than a second left in the game, his team down one (good call by the way). Farmer casually hit both free throws to win the game, after Nick had been chirping in his ear before the shots. Young prevailed in their second matchup, but I still didn't like to see him dancing into timeouts.
Which leads me to the clip, and this all could be the result of editing, of another game. Young made a spin move and hit an amazing scoop shot in the lane in what seemed to be the final seconds. I was like, "wow, that's a pretty amazing game winner," and then the camera pans to the scoreboard and Young's team won 75-68, or something like that, making the basket a hot-dog moment, instead of a necessity. Before I knew it, Young was telling the camera that he thought he was Kobe.
The scouting report put together by a college coach recruting Young said that he "doesn't compete at times"….I can still see some of that in the NBA, albeit not nearly as much as the one example in the movie, but disturbing nonetheless. Could you imagine Jordan or Kobe ever doing that, even as a youth? Ok, unfair comparisons…how about Antonio Daniels…..or perhaps Jordan Farmar?
I did like how Coach Chevalier called Nick out with the truth, in the locker room, in front of everyone, after his unmotivated game.
I was somewhat befuddled when the killer of Nick Young's brother, Marcus, said that at the time he was immature, yet

sophisticated

enough to kill, I guess it just struck me as odd that he used "sophisticated." He obviously deals with his past on a daily basis, but does the most he can do by helping youth avoid following his path. He understands that the pain of the Young family is much greater than his remorse.
Nick Young certainly understood the importance of the SAT, but not the importance of the work and preparation involved to pass it. The 'locked out of class for being late scene' was not a pretty sight.
After watching the documentary, I came away knowing much more about Nick than before. At a minimum, I was previously aware that he had a brother who was killed, but not that the family was dealing with the emotional troubles of another brother.
Nick Young is an earnest young man who was lucky to have good family surrounding him growing up in Los Angeles. At the same time, observing what I've seen during his first year with the Wizards, Young still has a ton of growing up to do. It's hard to distinguish whether there has been significant gained maturity from his persona in high school, the time period during which the documentary took place, and the 23-years old he is today.
Young has been through a lot of experiences which have aged him, but he's still just a kid. He seems to understand that he's playing for something bigger than himself, his mom and his lost brother Junior (Charles). Hopefully, the struggles he's faced will make eventual growth into adulthood, and a mature NBA player, and easier task.
[Note: Jake The Snake has a good movie review of Second Chance Season, on Bullets Forever]