Late Defensive Lapse Leads to Holiday Hangover — Wizards vs Raptors, DC Council 14
Updated: November 29, 2015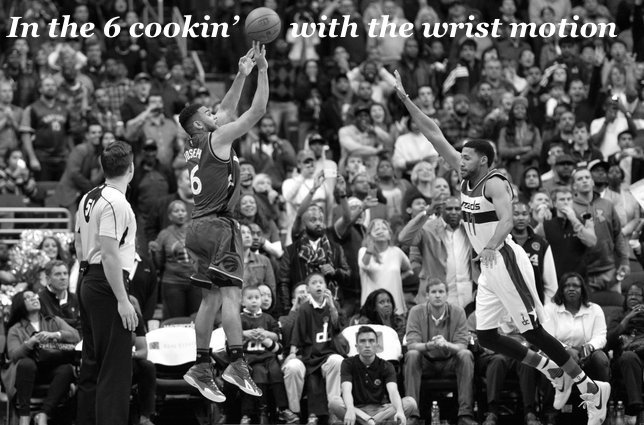 The D.C. Council… TAI's highlights, seen and heard, from each Washington Wizards game. Now: Wizards vs Raptors, Game 14, Nov. 28, 2015 via Troy Haliburton (@TroyHalibur) from the Phone Booth. Photo: @jackhaveitall.
M.V.P.
Bradley Beal. On a night that seems to have to tipped the scale from Innocent Early-Season Slump to Full-Blown Concern, Big Panda was the one bright spot in the Verizon Center Saturday night. Beal led the Wizards in both scoring (20 points on 5-for-9 shooting) and assists (6).
Going 2-4 from the 3-point line is an average day at the hardwood office for Beal, but what was particularly impressive about Beal's performance was his aggressiveness in attacking the rim, which leading to free throw attempts. Eight total attempts, eight free points. For the season, Brad is averaging 3.2 FTA's per game which ranks 72nd in the NBA. The hopeful progression for Beal would have him develop into a deadly threat from behind the arc who can also win trips to the free throw line on nights when the long ball is not falling. Against the Raptors, Beal attacked the basket with great intent, leading all players with an 8-for-8 line from the the charity stripe, and thrived as a secondary ball handler next to a struggling John Wall, who has not been his usual floor general self to start this season.
Just because Beal appears in this space as team M.V.P. of the night does not mean he played a perfect game. Almost all of Beal's productivity came in the first three quarters, and he had opportunities to make an impact on the outcome of this game in the last few minutes and failed to do so. After John Wall's comments earlier in the week lamenting head coach Randy Wittman for having both he and Beal sitting at the same time, Wittman made a concerted effort to stagger the young stars' minutes, as to make sure that one of them was always on the court. When Beal entered the game at the 8:51 mark of the fourth quarter, well-rested, he sputtered to the finish line going 0-for-2 from the field and committing a costly turnover with one minute left.
Beal is still on the cusp of turning the corner from great future prospect to actual NBA star, but he has already elevated his game by playing a smarter brand of basketball. Now, if he could learn how become a closer….
X-Factor
Raptors' Cory Joseph hits game-winning three to beat Wizards pic.twitter.com/F4WtMUvLiT

— Ben Golliver (@BenGolliver) November 29, 2015
The X-factor for that heart breaker of a finish has to be the man who hit the game-winning reverse dagger, Corey Joseph. The Raptors were able to poach this young player from the back-end of the San Antonio Spurs roster by going out on the limb and offering him a "good faith" contract of $30 million over four years, despite limited playing opportunity. Joseph has responded by becoming a solid contributor backing up All-Star Kyle Lowry, averaging career highs in points per game (9.4), assists per game (3.2), and PER (16.7).
In a game where Lowry and DeRozan scored more than half of Toronto's points, it was imperative for them to have that third threat, and Joseph was that, finishing with 12 points and six assists. There was nothing extremely special about what Joseph did on that last play, but give credit to the pro for being a calm and collected and capitalizing on the opportunity.
L.V.P.
The least valuable player (L.V.P.) is a three-way tie among Ramon Sessions, Randy Wittman and John Wall.
Sessions' negative impact is a direct correlation to his counter-part Cory Joseph outplaying him on both ends of the court. He finished 0-for-7 from the field, and from the bird's-eye view in Section 104, most of those misses seemed like every layup attempt were a cruel joke for every fan in attendance rooting for the home team.
On the season, Sessions is shooting 27.3% in the paint and 41.5% in the restricted area. Amazing, frankly.

— HELLO my name is (@JohnCTownsend) November 29, 2015
Sessions was one of the weak links in a defensive effort that allowed an open buzzer-beating shot. He ended up being switched onto DeRozan after a screen above the break and was beat off the dribble. Garrett Temple slide across the lane, over-helping, which left Joseph wide-open for the 3.
Sessions talked about the fatal play in the locker room after the game:
Part of me wants to blame sessions for his defensive lapse, but logic says anytime Ramon Sessions is being used on an end-of-game defensive possession, blame ought to be put on the man who made that decision. Randy Wittman has made a few questionable lineup decisions, leaving a lot of #WizardsTwitter wondering if there was any rhyme or reason to his method. Wittman made the decision to insert Jared Dudley into the starting lineup, and it mostly paid off. Dudley finished with only seven points but had a team-high plus/minus of plus-7 on the game. Dudley made one appearance in the fourth quarter of a highly contested game, and that was with five seconds left … as an inbounder (the final box showed he played two seconds in the fourth quarter). Give Wittman credit for playing the starting five so many people have advocated for, but he deserves some criticism for keeping one of his better players this season on the bench in crunch time.
After the game Wittman sarcastically remarked that if the Wizards hadn't shot 33 percent from the field they would have won.
That Game Was … Some Real Holiday Blues.
This time of year, people are supposed to be happy. But days off mixed with family time can be extremely stressful when affairs aren't in order. The Wizards know all about that, and if you believe Marcin Gortat, there isn't a lot of holiday cheer in Verizon Center nowadays. In the locker room after the game, Gortat raised a few eyebrows when he called out the players, coaches, and media for being too negative.
"Everybody has to do more now," Gortat said. "Everybody, including me. It's not easy, but we got to cut the negativity we have coming from players, coaches, staff, media. We just got to cut that. It's not even fun coming here anymore. There's so much negativity. I understand we're losing games but, damn, we just got to cut that right now, man. It's not fun at all."
Extra!
Got to give John Wall a lot of credit for standing tall in the locker room and taking responsibility for his play. pic.twitter.com/8MRAbkMvmh

— Troy Haliburton (@TroyHalibur) November 29, 2015
John Wall was aggressive in his approach to finding his shots, and I'm sure that this style of play will eventually give him a boost in confidence this season, but on Saturday the Wizards needed someone to carry the team across the finish line, not a believable 2015 Kobe Bryant impersonation. Wall's play has been sub-par this season, but no one is more upset about that then Wall himself, who continues to show maturity by taking responsibility.