Key Legislature: Wizards 87 at Hornets 101 — Fourth Quarter Buzzkill in Charlotte
Updated: November 26, 2015
TAI's Key Legislature… The game's defining moment, its critical event, the wildest basketball thing you ever saw, or just stuff that happened. Wizards at Hornets, Regular Season Game 12, Nov. 25, 2015, by Troy Haliburton (@TroyHalibur)
Post Game #WittmanFace. pic.twitter.com/Fzc1EfKWx7

— Kyle Weidie (@Truth_About_It) November 26, 2015
When the Wizards led the Hornets 85-76 with 9:53 left in the fourth quarter, it seemed as if they were finally getting over defensive woes that have plagued them over the first few games this season. Instead, this was the point where players mentally checked out, maybe wanting to get an early start to their Thanksgiving. They  literally did nothing else for the rest of the game—didn't even make a field goal. Charlotte finished the game on a 25-0 run (until Gary Neal got fouled and made two free throws with 23 seconds left and the game in hand). The 'Zards were left in a catatonic state of shock.
This loss was bad. Historically bad, to be blunt.
#Wizards broke team record for fewest points in a 4th Q. Prev. low was 7 pts vs Warriors in 94. Outscored 7-28 in 4th that game, lost by 22.

— Kyle Weidie (@Truth_About_It) November 26, 2015
If Randy Witman had no problem calling out Marcin Gortat for getting one defensive rebound in a game, saying that even his 56-year-old self could get a rebound in 27 minutes, one can only imagine what the coach thought he could do as he watched his team go 1-for-2o on field goals in the fourth quarter versus Charlotte. The Wizards had a fourth quarter from hell—they missed 17 straight shots, looking absolutely lost in the process.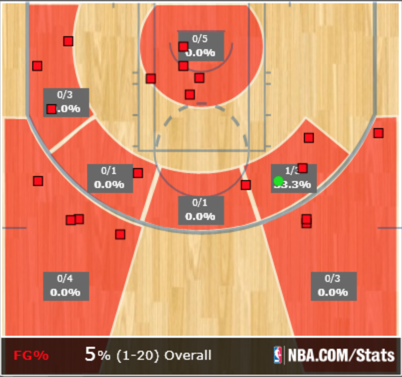 The worst part is that the display of ineptitude felt like a blind-sided car collision. The Wizards had the Hornets on their heels after finishing the third quarter on a 13-0 run, outscoring the Hornets 27-16 in the period. Charlotte's offense has improved this year (they are trying a small ball style, too), but they aren't that damn good.
Washington has to take a brunt of the responsibility—it wasn't all about Charlotte's defense. And if we're going to play the blame game, we must start at the top with floor general John Wall. Wall's game on Wednesday was pretty much indicative of the lackluster performances he's provided several times this season. This is not to trash the team's franchise player, Wall is still one of the best young prospects in the entire Association, but with great power comes great responsibility. Wall is not living up to his obligations as the team's lone All-Star and, yes, leader from a year ago. Even Comcast's Phil Chenier noticed.
"Not saying Brad & John aren't playing well, but they're exceptional athletes and you expect exceptional things from them." —Phil Chenier

— Kyle Weidie (@Truth_About_It) November 26, 2015
To the naked eye, the dip in Wall's game may not be perceptible. He still is able to create highlight-type plays when moving in transition, and his pocket passing looks as crisp as ever. The problem with Wall right now is that his decision making does not seem refined. Wall finished the game with six assists and five turnovers; on the season his assists numbers are down to 7.9 from 10 last season, and his turnovers remain ridiculously high at 4.5 a game.
If you think the regular box score numbers are unkind to Wall, don't look at his advanced metrics. Wall ranks 41st amongst NBA point guards in Real Plus-Minus (RPM) at minus-0.94. Basically, Wall's mere presence on the court is negatively impacting the Wizards. (Which we know isn't totally true, but still.)
Interestingly enough, Wall was quoted after Wednesday night's game complaining about Randy Wittman's rotations that left both he and Bradley Beal on the bench at the same time.
Wall, via Jorge Castillio of The Washington Post:
"I feel like we can't have me and Brad sitting. That's just my opinion. Coach makes the decision he feels is best for us. I just feel like one of us has to be in in that situation because when you're on the road, this is the time when you can step on them.

"I just feel like one of us has to be in. I don't know. It's just my opinion because our second unit was just so stagnant. And I'm not saying they lost the game. [Shoot], we all lost the game. We didn't make shots. We were 1 for 20, right? I think we were just so stagnant. We really didn't have anybody penetrating and creating."
Funny thing, however: When Beal and Wall are on the court together the Wizards have an Offensive Rating of 99.5 and a Defensive Rating of 103.4—a Net Rating of minus-3.9 in 258 minutes of game action. The Wizards overall have a Net Rating of minus-2.7. Wall's comments seem a little misguided.(1)
Maybe he needs this perceived knock as inspiration to get into a groove and get back to being the #WallStar people have come to know and love. Or maybe this is the first obvious sign of discontent in the Wizards locker room between players and coach. Either way, it can't get any worse than scoring six points in the fourth quarter quarter while the other team scored 27.
---